With the summer solstice just weeks away, are you prepared for the wardrobe shift? Or are you still wearing last season's fashions? Well, here's a blog post to give you some ideas for the upcoming season. According to Glamour Magazine, this summer is going to be the "sexiest era yet" for your wardrobe.
Bold colors, such as red, are a trend that will be hot this season. When wearing red, it is suggested to wear matching red lipstick for a look that could kill.
Miu Miu spring/summer 2012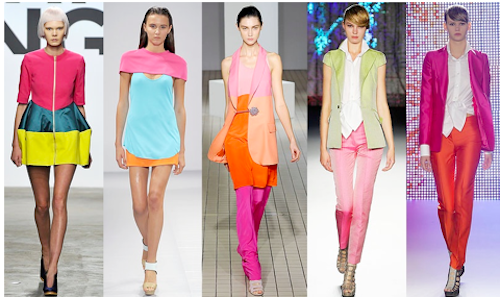 One popular summery looks are the maxi skirts and dresses. These bohemian, floor-length garments have been seen all over the place lately, and the light fabric is ideal for the hotter temperatures.
How about a simple way to keep cool this summer - bring the shade with you! With oversized hats, keep the sun out of your face while still looking trendy.
As seen on many celebrities.
Carolina Herrera

One trend that's bleeding through from spring to summer is sporty couture. You can't go wrong with light fabrics and neon colors this season.
Marc Jacobs summer/spring 2012
Versus spring/summer 2012
Another trend that's been sticking around is the clashing patterns trend. Go hog wild with your prints this summer!
Miu Miu spring/summer 2012
And, of course, Krystal has a great selection of garments that are suitable for the summertime! Have a peek!
Here is a gorgeous bright top from our own collection! The Hamptons Top is

100% knit silk noil, features a 1/2 sleeve with shoulder cut-out and a long hip-length body, and is $158.
If you want to look classy while wearing shorts, the Short Slacks are right for you. At $130, these bottoms are made of

100% wool crepe with linen front-pocket lining. They feature pleated front and back, 2 front pockets, standard pant-fly and contemporary length and fit for comfort and style.
For the working woman, this
100% silk jacket features a luxury Indian silk body, 2 front cotton-lining pockets, 2 Back Pockets, classic pant-fly.The cost of this number is $190.
The Tank, $98, is the perfect way to stay cool while also staying trendy. You can never go wrong with lace!
Thanks for reading, and happy summer!